Join Our Customization Party
---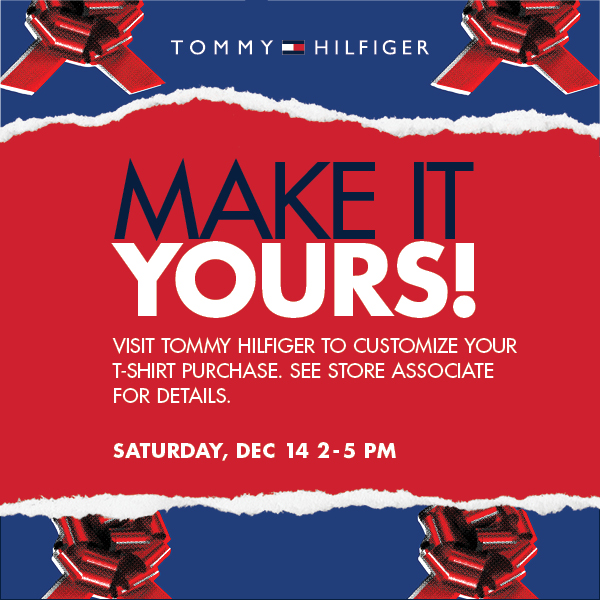 Customize any T-shirt purchase with an exclusive holiday graphic*
Plus, 20% off your purchase of $150+ or 15% off your entire purchase**
Promo Code: 500023580000
SATURDAY, DEC 14
2-5 PM
*OFFER ONLY VALID BETWEEN 2:00PM – 5:00PM LOCAL TIME ON 12/14/2019 OR WHILE SUPPLIES LAST. ONE OFFER PER CUSTOMER. Offer only available at this Tommy Hilfiger location. See store associate for details. **THIS OFFER EXPIRES ON 12/14/19 and is redeemable for the discount amount stated on this Offer and must be presented in-person at Tommy Hilfiger stores in the United States, Puerto Rico, and Guam.
Photos With Santa
Now through December 24, 2019
Santa will be available for photos and visits at his holiday home, located in Vans Court Area, Near ...
Aquarium of Niagara
Now through December 8, 2019
December 4th- December 8th 12/4- 12-8PM 12/5- 10AM-5:30PM 12/6- 12-8PM 12/7- 12-8PM 12/8- 12-6PM Ni...