Give Fashionably- Adopt-a-Tree Display
Now through December 25, 2019
---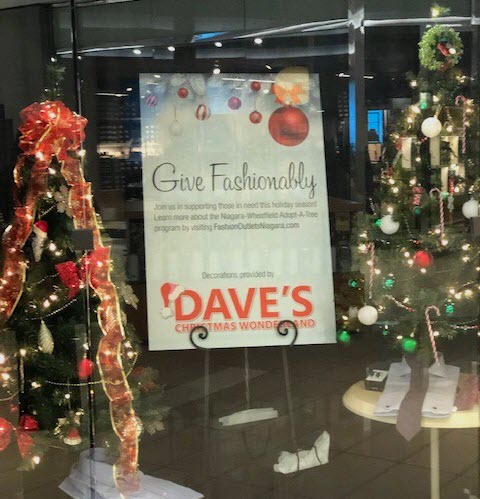 GIVE FASHIONABLY
Fashion Outlets of Niagara Falls is proud to partner with Niagara Wheatfield High School for its annual Adopt-A-Family/Adopt-A-Tree holiday experience.
NWHS is continuing the tradition of adopting local families who have demonstrated need and have been identified through our local Salvation Army. The NW students are responsible for all levels of preparation for this experience (fund-raising, sorting, shopping, communicating, the Adopt-A-Tree program and the 12 Days of Giving, food collection, etc.), and students will have the opportunity to deliver first hand to families in need.
Fashion Outlets of Niagara Falls is participating in the Adopt-A-Tree Program and currently has 5 themed trees on display inside mall entrance #1, next to Guess. These 4 foot trees have been decorated by DAVE's Christmas Wonderland and will be part of the Adopt-A-Tree auction that helps to raise money for Adopt-A-Family.
Fashion Outlets shoppers can help 'pay it forward' by getting involved in these amazing community programs led by local students.
Niagara Wheatfield is currently accepting donations of all types in preparation for making the upcoming Holidays a memorable experience for local families in need.
For more information on the program, or for details on how to get involved - please call (716) 215-3100, and ask for the Adopt Program Coordinator.
To see more beautiful trees and place a bid on one for yourself, visit NWHS, after 3:00 starting on November 13th