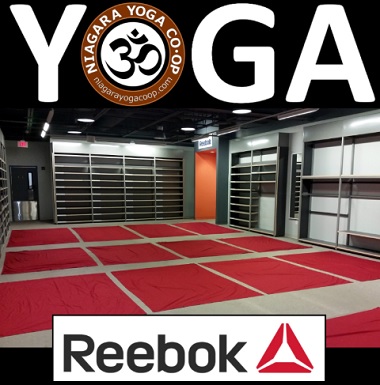 Saturday Yoga Classes
Now through August 25, 2018
We are so excited to have you join us for Saturday morning YOGA hosted by Reebok at the Fashion Outlets of Niagara Falls! The class itself is a delicious blend of Hatha Yoga and Vinyasa Flow and is designed as "All Level" so there is something for everyone and you can rest assured that you will enjoy and benefit regardless of your ability or experience. A few yoga mats and props will be available but it is highly advisable to bring your own. We will start promptly (right on time) at 10:00am, so please arrive 10 – 15 minutes early !
* 1 Hour of Stretchy Yoga Fun !
* 20% Reebok in Store Discount !
* 2 for 1 Pass to Niagara Yoga 3rd Street Location !
* Starts Promptly at 10:00am (arrive early) !
Currently, each session is only $10.00 per person.
Purchase Tickets Here!
Contact Brian at Niagara Yoga Co-Op for more information:
716.957.6805
brian@niagarayogacoop.com